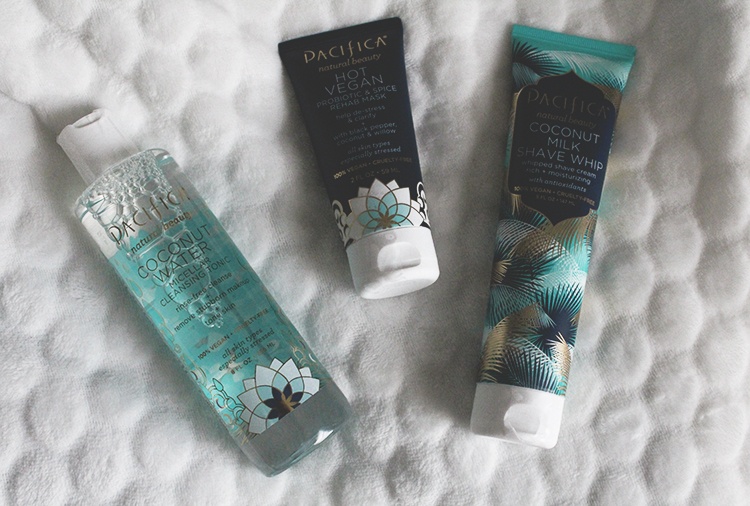 I bet you're wondering…Raeanne, how is your spending ban going? Well…let's just not talk about that for now.
I was seriously so excited when I found out that Pacifica (my favorite skincare brand) was coming out with some new products so naturally, I just had to pick up a few…what's the harm in that, right? I didn't pick up too much, just a few new things to try out.
First up is this Hot Vegan mask. I was influenced by Rhian HY to pick it up and I'm so glad I did. I love Pacifica's masks because they're clear, so you can walk around your house and not be stared at… I was a little bit worried by the product name, I thought it was going to be a hot mask, but it wasn't. I actually really enjoyed this mask and it did relax my skin. If you have sensitive skin, I do recommend! They even say that you can use this mask everyday.
Here's something that's completely new to Pacifica – shave whips! They have a few different scents, but of course I went for coconut milk because I'm coocoo for coconuts (haha, get it?) But really though, just look at the packaging! Clearly, I'm drawn to products in blue packaging. I have not used this yet, so I'm not sure what to expect but I will keep you updated on Instagram (and maybe Twitter) so make sure to follow my accounts! 
And lastly, I picked up the Coconut Water Micellar Cleansing Tonic. I already own the Cactus Water version, which I've talked about in past posts. I do enjoy it but find that it can be a little harsh on my skin so that's why I was happy to see this one! It's just like the mask and is "targeted" towards stressed skin, but can be used for all skin types. I bought this to replace the Cactus Water one once I'm all done with it. Haven't tried it yet but I'm sure I will love it!
I definitely want to try out some of Pacifica's other products, like maybe something from their hair care line or maybe some fragrances.
What's your favorite product from Pacifica, or have you never tried them before? Let me know in the comments below!
Thanks for reading, as always <3
Xoxo, Rae
FTC: All of these products were purchased with my own money and all opinions are 100% my own. All sponsored posts/PR items are marked with an asterisk (*) in the title. I am not being paid for this post.