Hey hey! Sorry for being a little MIA, I have been in the process of moving and we don't have internet at the new place just yet – but we're working on it! If you've been around for a while, you've probably seen a couple of my past posts about some skincare products from Valentia. (If not, I'll link some here for you to catch up on… Detoxifying Mask, Royal Rose Hydrating Serum, Valentia Skincare)
This is a new release from Valentia and I'm so excited to tell you guys about the moisturizer and share my thoughts on it.
Our newest addition to our brand, Pure Glow Brightening Moisturizer, only has the best natural and organic ingredients formulated to provide all-day weightless hydration that never makes you feel greasy, while illuminating the skin and helping to lighten dark spots and even skin tone.
Valentia's mission is to create skincare that is natural, free of toxins and paraben free. Their products are also vegan & cruelty free, organic, made in the USA & made with sustainable energy.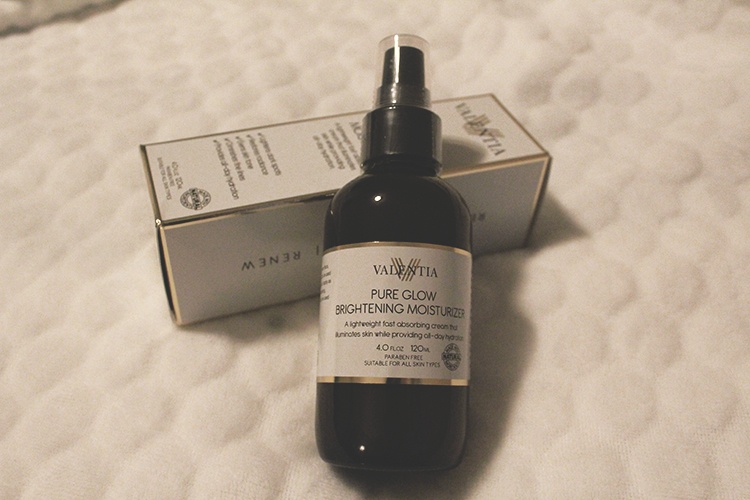 Some of the ingredients in this moisturizer that make it so special are…
– Botanical Hyaluronic Acid: Floods skin with moisture, supports skin elasticity, and plumps skin from within.
– Kojic Acid: Controls melanin production and prevents dark spots.
– Ginseng: Boosts skin firming collagen, fights wrinkles, and gives the skin a brighter and more energized look.
– Safflower Oil: Repairs skin's natural moisture barrier and provide superior skin protection.
– Shea Butter: Infuses skin with a myriad of vitamins and nutrients for superior skin hydration and nourishment.
I personally love hyaluronic acid, I find that it always makes my skin appear so fresh and nice looking. I don't have much familiarity with the other ingredients, but they do sound quite lovely and like they belong in a moisturizer.
The moisturizer claims to…
– Lighten dark spots
– Restore skin radiance
– Even skin tone
– Diminish fine lines
– Provide all-day hydration
Now onto the review!
Valentia's packaging is the same throughout the majority of their products (which there is obviously nothing wrong with that!) This is a decent amount of moisturizer to get, for the price. (The Pacifica one I have been using is $16 for 1.7 fl OZ). This is a 4-6 month supply, so you really do get your money's worth.
The consistency reminds me of the Royal Rose Hydrating Serum. It quickly absorbs into the skin, which is something I prefer in a moisturizer so I can quickly move on to doing my makeup or quickly run out the door. The moisturizer doesn't have an overpowering scent and I actually really like it. I find that thicker creams tend to clog my pores and I haven't had that issue with this moisturizer. I have also noticed too that it does add a nice glow to my skin (so I guess that's why it's called Pure Glow!) I used to have really dry skin, but because of hormones my skin has sort of transformed into normal/combo skin and this moisturizer does a good job of balancing out my skin and doesn't leave it feeling greasy or give me that awful greasy shine (I get a nice glow when using it, def doesn't look sticky/greasy).
Overall, I do recommend this moisturizer! I think for the price point it's definitely worth it. You get a lot of product and the product actually works! I love that their products are natural – because it takes SECONDS for your skin to absorb what you put on it (so in just seconds your body can absorb tons of toxins found it other products you use daily *sad face*). I'm always pleased with Valentia's products and I'm sure you will be too!
What's your favorite moisturizer of ALL time? Let me know in the comments below 🙂
Thanks for reading, as always <3
xoxo, Rae
Disclaimer: Yes, this product was sent to me to review, but sponsorships/items sent to me do not alter my opinion in anyway. I'm here to help you (my readers) to find new products that you may have never heard about. I am all about giving 100% reviews, whether I'm paid for the review, sent the item or I purchase it myself. Just something to keep in mind for my past/future reviews. Powered by Brandbacker.