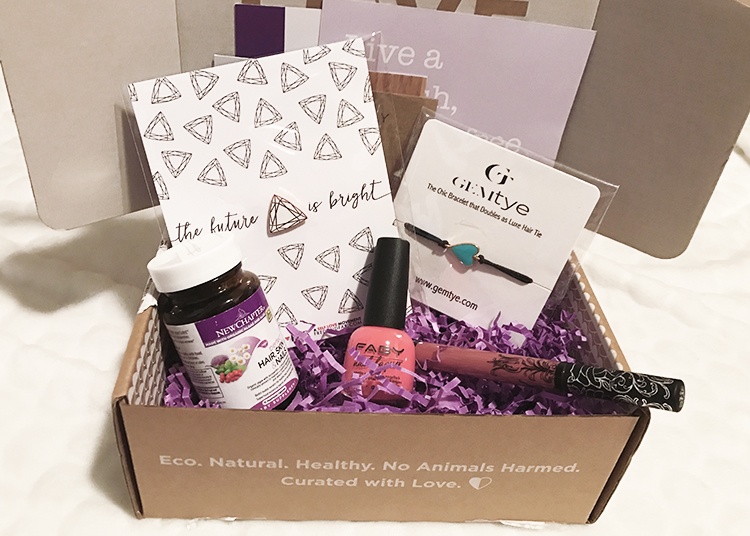 I'm really bad at not spending money…I constantly tell my boyfriend to take my debit card away from me but that won't help me any since PayPal exists and I cannot be stopped.
ANYWAYS, previously I told you guys that I would be canceling my LoveGoodly subscription. Well I did, then I saw that the June/July box was going to have a FULL sized KVD everlasting liquid lipstick in it and I hopped onto LoveGoodly so quickly to resubscribe and I'm happy that I did! This is a treat for me every other month and I really do enjoy opening it and trying out the new products in it. I'm happy that this whole box wasn't just beauty related items, so if you're curious to see what I got, keep on reading! (I apologize for the crappy pictures, used my iPhone since my ring light was not cooperating!)
So this is the KVD Everlasting Liquid Lipstick in Lovecraft which is a beautiful mauve color. If you've been around for a while, you know I don't like the Colourpop Ultra Matte lipsticks but I love this one. It doesn't feel drying on the lips like the Colourpop ones do. The KVD one definitely has a creamier consistency while the Colourpop ones have a wet consistency. Anyways, SUPER excited to wear this in the fall. Mauve looks really good on me, not to toot my own horn or anything but gotta give yourself compliment when you can, y'know?
I was surprised to see these in my box, but I'm kind of glad that they were included. My nails are so brittle and break all the time so I hope these supplements will help me out. They are vegetarian which is a mega plus. I wonder if they'll help you my skin problems to…I'll keep you updated on Instagram, so make sure you're following me there!
Ah! This is so cute. So this is a hair tie that also doubles as a bracelet (or a bracelet that doubles as a hair tie). They were giving this turquoise color away in boxes or a black one and I'm happy I got the turquoise one! The color is one of my favorites and I love the bracelet. Really cute, really simple but also handy! GemTye also has a lot of different styles so check those out.
This is a pretty pink polish from FABY. I've never heard of them before but they are 7 free (meaning no yucky chemicals) and they're vegan if that's something that is important to you. This one is called "Hula Hoop Pink" but I don't think it's available for purchase anymore but they do have loads of other colors that are pretty as well.
Here is a pin from Fred + Far which is a company that promotes self-love. They make jewelry to remind you to love yourself and honor yourself. I think this is an amazing idea! I already put the pin on my backpack and I can't wait to show it off on campus.
Here is the card with all of the prices and details if you were curious! This month's box supports Farm Sanctuary <3
I hope you enjoyed the post!
Thanks so much for reading, as always <3
Xoxo, Rae
Disclaimer: This post contains affiliate links.