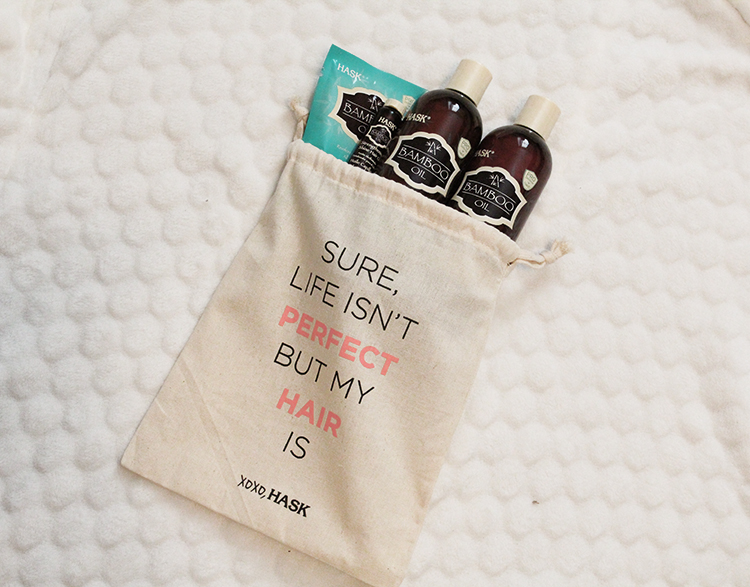 You guys know how much I love HASK's products…it's nearing an addiction phase. I was thrilled that I got the opportunity to try out their Bamboo Oil collection that's specifically for strengthening your hair. Here's what HASK says about this collection on their website…
"It's time to add strength training to your hair care routine! Fortify fragile hair and defend against damage and breakage with HASK Bamboo Oil Strengthening collection. The line features a Shampoo, Conditioner, Deep Conditioner and Shine Oil, all formulated with ProDefense Complex that penetrates hair to strengthen, reinforce and protect. Bamboo oil, known as one of Asia's natural treasures, is proven to strengthen hair and deliver essential nutrients that revive weakened and lifeless strands. Combined with biotin and collagen, silicon-rich bamboo oil gives hair a strong foundation, improves flexibility and prevents split ends. So damage caused by every day styling is a thing of the past!"


I don't know about you, but I start by shampooing my hair first (I know some people who condition first, but I ain't about that life). This Bamboo Oil Strengthening Shampoo is like magic. It left my hair feeling so smooth and soft (per usual with HASK's products). It also felt like it had a different texture to it after I rinsed out the shampoo, kind of like it instantly transformed my hair, but maybe that's just me.
The conditioner really helped to keep my hair feeling soft and smooth, also helped reduce my frizziness without making my hair look or feel oily or greasy (which is important to me). These two work amazingly together, and the ingredients in both with help strengthen your hair in no time!

You might use a mask for your face, but did you know that your hair needs a mask sometimes too? HASK has lots of different hair masks and they have one in this collection too! I've used their masks before on nights when I wanted to pamper myself. They come in convenient pouch that comes with 1.75 oz of product, if you have short hair like me, you can definitely get more than one use out of the single pouch. They say to use it 1-2 times a week and to leave it on for 10 minutes (on clean wet hair) then rinse your hair thoroughly. These masks really help to repair your hair and thoroughly nourish all of your locks without leaving your hair greasy or weighed down from residue, it's a win win.

Hair oils are good to give your hair a little extra TLC and to help reduce frizz and fly aways. I like to use a small amount of oil on my dry hair before leaving for the day. It makes me look polished and like I didn't just roll out of bed (even though I totally did). This hair oil is great, just like the other one I've tried from HASK and I definitely will be using it daily (so I hope they come out with a full size soon 😉 HMU HASK when you do!)

P.s. How cute is this bag I got too!? I used the other one I got while traveling to hold my toiletries and it was awesome! I will definitely put this one to good use too.
So that's all for today, I hope you enjoyed reading!
QUESTION: What's your favorite type of hair product? Let me know in the comments below!
Love you all,
Xo, Rae
Disclaimer: Yes, this product was sent to me to review, but sponsorships/items sent to me do not alter my opinion in anyway. I'm here to help you (my readers) to find new products that you may have never heard about. I am all about giving 100% reviews, whether I'm paid for the review, sent the item or I purchase it myself. Just something to keep in mind for my past/future reviews.
Powered by Brandbacker.