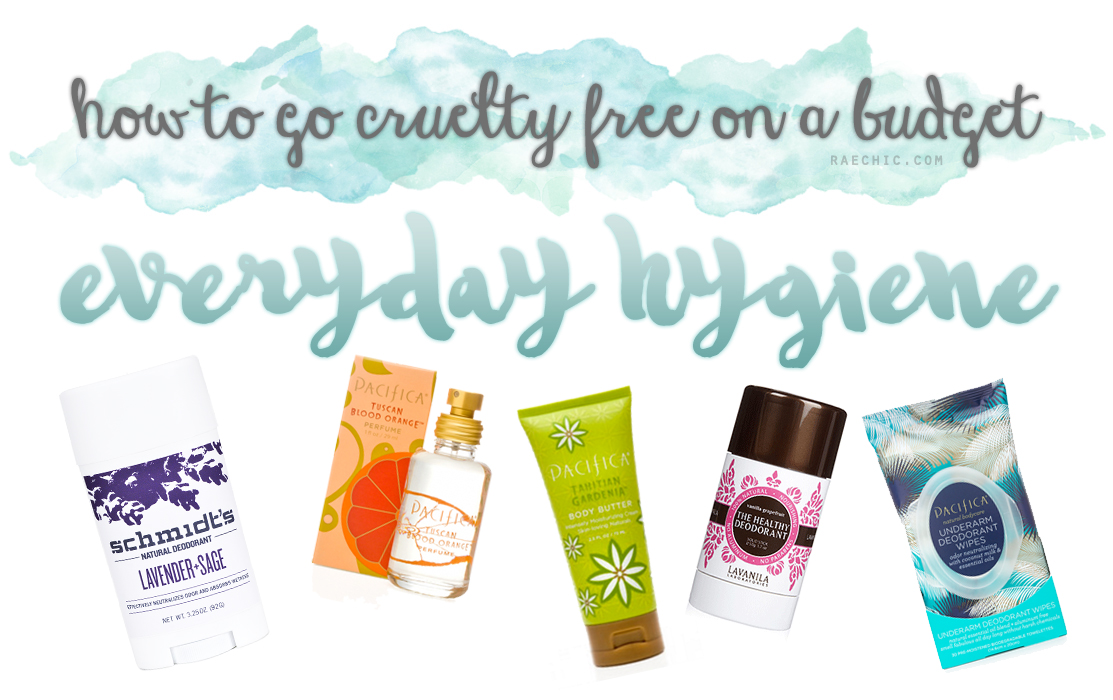 PT. 1 (Skincare)| PT. 2 (Foundation)| PT. 3 (Eyeshadow & Liners)
PT. 4 (Mascara & Brows) | PT. 5 (Lips) | PT. 6 (Shower Hygiene) | PT. 7 (You are here)
Sorry that it's been a while since my last CFOAB post! I hope you weren't missing them too much. So today is all about everyday hygiene, and everyday hygiene that is cruelty free (obvs). Everyday hygiene is important and there are products out there that are cruelty free (& some are even better for you than traditional products!)
Deodorant
Unfortunately, there are no cruelty free anti-perspirants on the market (yes, deodorants and anti-perspirants are different things!) But there are quite a few deodorants out there that will make you smell great and some might even help to whisk away wetness, so you can feel fresh all day. Above I have pictured, Schmidt's Lavender & Sage natural deodorant. I do own this and I do like it, however, I have sensitive skin (I feel like I mention this in every post…might as well just tattoo it on my forehead!) and I think the deodorant contains baking soda, or something else that made my arm pits get red marks on them. I don't use it everyday, but I do use it when I think about it. They have recently come out with a new sensitive skin formula, so I will be getting my hands on those as soon as I have some extra cash. I also have Lavinilla's deodorant pictured above, which you can get at Sephora for $14. It comes in lots of different scents and is formulated without parabens and is aluminum free. Another deodorant option I have pictured above, is Pacifica's Underarm Deodorant Wipes which come in a convenient package so you can easily take them with you. I feel like these would be great after the gym or even if you just want to feel a little bit fresh during the day. I wouldn't use them to replace deodorant, but more to just keep you smelling fresh throughout the day. There are also many more cruelty free & natural deodorant options out there, just keep searching!
Perfume
I'm a perfume addict, just like I'm make up addict and just like I'm a everything-else addict (that sounds really bad, but I just have an addiction to owning things). I feel like most people don't realize how much of a difference perfume makes, when I'm running late and can't put any on I feel like somethings not right or that I do smell and someone's going to notice. I'd rather smell nice all the time, so perfume is always a must! Pacifica has tons of perfumes and rollerballs that smell amazing, pictured above is the scent Tuscan Blood Orange, which I've tried in one of their lotions, it's a great citrusy-fresh scent that isn't too overwhelming. Harvey Prince also has some great smelling perfumes that come in rollerballs or spray bottles. I got a sample of their Hello perfume in an old Birchbox and instantly fell in love. I need to purchase the full size (after I use up some of the perfumes that I already have, and trust me, there's a lot :/)
Body Lotion
I always use a lotion to make sure that my skin is soft and smooth, otherwise I get super itchy and flakey and that isn't cute. Pictured above is Pacifica's Body Butter in Tahitian Gardens, which I've never smelt before but the description of it sounded yummy. Body lotions that match your perfume will also make you smell great all day long, with minimal effort! Some other brands are Everyday Coconut, alba, Shea Moisture, Lush, and I'm sure theres some others that I haven't heard about too, so do your research!
That's all for today's post, I hope I covered everything you would want to know about everyday hygiene that's cruelty free!
Thanks so much for reading. What's your favorite hygiene item? Let me know in the comments below!
Xoxo, Rae