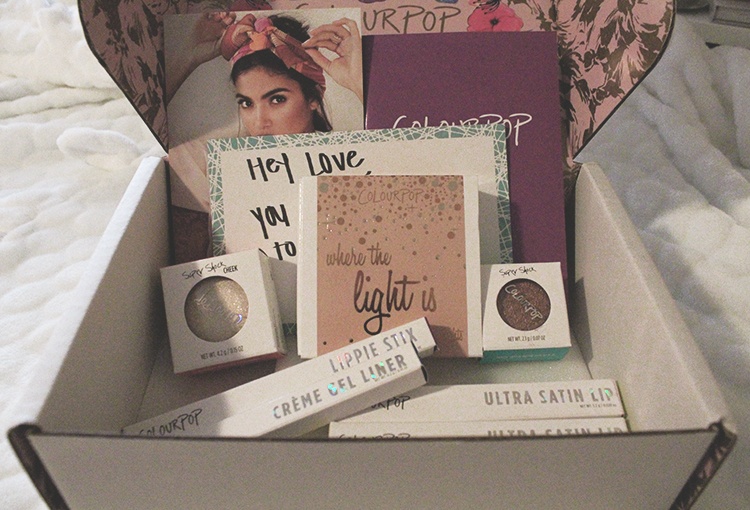 Again, someone please take my debit card away from me…I can't stop buying makeup! I love love love ColourPop so of course I had to buy some new goodies to try out and share with you all. ColourPop is one of my favorite brands because their products are so affordable and the quality is absolutely outstanding for what you pay. They have a variety of products ranging from lipsticks, eyeliners, eyeshadows, brow products and cheek/highlighter products. There is honestly something for everyone and their prices range from $5-$8 for a single item and usually $20+ if you are getting a collection of stuff. I picked up a variety of things (some products I have tried before and some I haven't!)
ColourPop usually warns that their processing + shipping time may be longer due to a higher demand, but I've never had a problem with their packages. Everything has been shipped out quickly and processed quickly too (I know that's not the case for everyone.)
I picked up 8 items, one of them was an eyeshadow quad set that Kathleen Lights had collaborated with ColourPop to make.
I have tried their shadows before (Hanky Panky, to be exact) and I absolutely love the formula and how unique it is. They're SO creamy and pigmented and have great wear power to them. They suggest to keep the packages closed tightly so the shadows don't dry out.
Here's a close up shot of Glow from the Where The Light Is collection. I love the texture that's on their shadows. I'm not sure how much product you get in each, but these colors can be bought individually.
Here are the swatches from the Where The Light Is collection that I labeled for you. Their matte shadows are truly matte and aren't powdery on the skin because of their super awesome creamy formula. Glow and Cornelious are mattes and Blaze and KathleenLights are metallics/shimmers. I feel like you could create a couple looks with this quad set. Blaze is a super amazing color and I can't wait to play with it! KathleenLights is also a super gorgeous copper color that I'm excited to play with too.
And in case you didn't believe me about their wear power…I used a makeup remover wipe on the swatches just minutes after swatching them and they stained me until I rubbed a little bit harder (I had to use a micellar water) but I'm definitely not complaining. I want shadows that won't fade throughout the day.
Showing some more love to Kathleen, here's her shade Weenie (I'm really not sure why Weenie is showing up as a bronze color because it definitely is a beautiful rose gold shade).
Here's a swatch of Weenie on my pale arm! Looks a little more true to color here (I guess I won't take my blog photos at night anymore!)
This Super Shock Cheek Highlighter in Stole the Show was one of the different products I tried out. This was $8 but is bigger than the shadows. No cool texture on it though, like there is on the shadows, what a bummer. This has the same creamy, soft texture and formula like the shadows do. I really like this highlight because it's not too showy/flashy and looks really nice on the skin. (I think I bought this because Jeffree Starr was raving about it).
This is a crappy iPhone quality photo, but my camera wasn't doing my swatch pictures any justice. But it's a very nice highlight for my fellow pale girls (or even those who like white highlights!)
I also have never tried their liners before so I really wanted to, since I've heard good reviews. I picked up Show Me from their créme liner collection (they have the liners in gel form too!) I was seriously SO surprised how well this liner sat on my waterline. I've always had issues with my liner rubbing off my waterline and making a mess, or creating a ring around my contact lens…this liner was amazing. It stayed put all day, literally. Fully intact, didn't fade, didn't more. It was awesome! I wore it on my waterline and as a winged liner one day too, and even with me fiddling with my eyes (I'm an eye rubber) it really didn't smudge or fade. I'm really amazed and now I want every color of liner they have. I highly recommend this color (& it looks great with blue eyes, totally made mine POP!)
Here's a swatch of Show Me liner. It's so creamy and pigmented and smooth and dreamy and ahhhh, I love it.
I wanted to compare Show Me to a higher end brand liner I have which I swatched below ColourPop's liner. It's the Jac B. Bronze liner from theBalm. It's $17 and probably has the same amount of product as ColourPop's liners. I prefer the ColourPop one for three reasons: the price difference, the pigmentation and how creamy their formula is (theBalm's formula is a little stiff and hard to work with).
I've tried their lippie stix before and have shown you some swatches on le blog and on my YouTube channel. I wanted to try out a new color for fall, so I got Grunge, which is honestly a really intimidating color for me since I'm so pale. I haven't tried it on my lips yet, but I did swatch it on my hand and it looks like it would be a great color for fall. It's definitely that 90's babe color. It's also a matte finish, which I do like, but only in their lippie stix (me + the ultra matte lips do not get along). Although it is matte, it applies creamy and smooth and dries down well. They have great staying power + staining power, so keep the coconut oil handy to help get the color off!
Here's a poorly lit swatch of Grunge. I'm glad to have it in my collection since I haven't had a color like this before.
And lastly, I bought three new ultra satin lips to add to my collection. I got Dopey, Spritz and Littlestitious. I love the ultra satin lips, because they aren't too glossy and aren't too matte – I would really call them like a semi-matte finish, but it looks natural. They aren't transfer proof but they are a perfect formula for everyday wear. I wish they had more colors in the ultra satin line, but I'm sure that they're working on it! I apparently like pinky/purpley colors on the lips, since my two other ultra satin lips aren't too far off in color (I'm really good at buying similar colors).
Another poorly lit swatch photo, they definitely aren't this deep/dark in person – but they are beautiful shades and if you are considering buying some, I definitely recommend the colors I got!
Are you a fan of ColourPop? What's your favorite product from them? Let me know in the comments below 🙂
Thank you so much for reading and I hope you enjoyed the post!
Xoxo,
Rae
Disclaimer: All products mentioned were bought with my own money. All opinions are 100% honest and are my own. No one is paying/sponsoring me to make this post. The links in this post are NOT affiliate links, just links to show you the products.