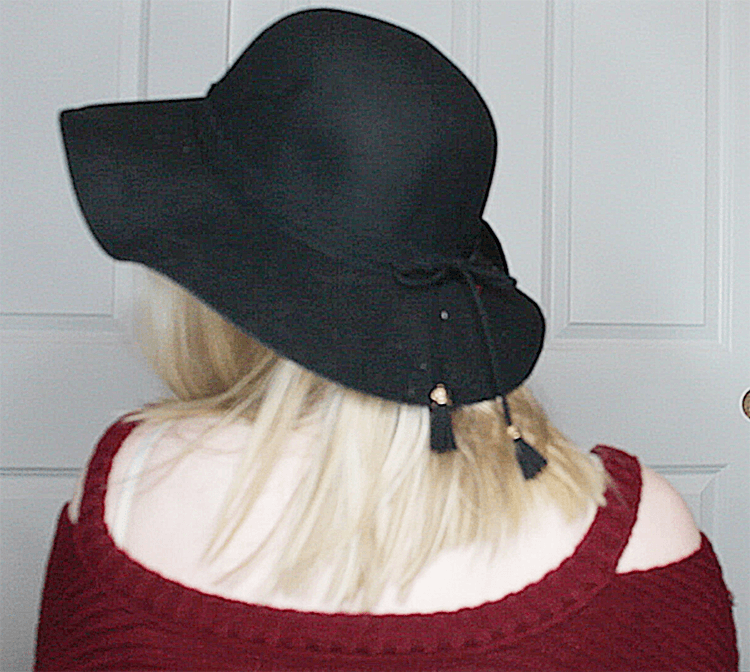 Hey lovelies! If you've been here a while, you might remember a past post about how you should avoid stores like this but when Zaful contacted me about a collaboration, I said why the heck not? That way I can give you guys an honest review (without losing any money – y'know?) I was able to pick out four items and I'm gonna let cha know all about them. I apologize in advance for the awful pictures, but my camera was messing up.
So, Zaful is an online retailer with all sorts of goods, ranging from affordable clothing and accessories. You've probably seen tons of hauls on YouTube! There's a lot of mixed reviews about them – about their quality and reliability but hopefully you can trust me enough to take my thoughts into consideration before placing an order with Zaful!
Let's start with the piece I was most excited for! I instantly fell in love with this cold shoulder sweater on Zaful. It costs $28.49 at the moment (they're prices do fluctuate), which I think is a good price for a nice sweater! The cold shoulder trend is totally in right now and to be honest, I never liked it but, I do love this piece, mainly because the shoulder cut outs aren't too dramatic that I feel like my whole arm is out.
The sweater is very thick and warm (which surprised me!) I love the style of it and how you can pair it with leggings, since it's longer in the back (pictured below). It has a grunge feel to it and it's amazing.
There's two downfalls of this sweater: it's too heavy, so it seems to fall down a lot. That could also be because it's too big, but it only comes in one size (I guess having it bigger is better than it being too small, right?) The second downfall is the amount of shedding it has (little yarn pieces), I haven't washed it yet because I fear the color bleeding so I wonder if that will stop once it's washed.
But overall – it's a pretty great deal, on a pretty sweater. I will definitely be rocking this during the colder months since it does keep me warm! I think it would look awesome paired with a dark pair of jeans and some knee high boots.
I'm a sweater lover, if you couldn't tell. This one is really unique with the choker cutout, which is why I was drawn to it. I hadn't tried out this style before, but I'm happy I did! This sweater comes in a ton of different colors and will cost you $16.99. 
This sweater has some zipper details on the arms, just for style purposes. I love the color as well! I would say that the color is pretty true to what was online, and it looks pretty much like what was pictured. The only thing that I don't like about the sweater is the fit. I wish it was a little bit longer since it fits funny on me. I would pair this with a pair of highwaisted jeans and little booties! You don't need jewelry as an accessory for this since the choker and zipper details covers that for you. 🙂
I don't know how much wear I will get out of this because I'm unsure about the fit, but I will do my best to make it work! (Maybe tucking it into a skirt would be cute? Let me know what you think!)
I've been seeing these wrap necklaces all over and I finally was able to try one out! I think they're versatile and unique looking. I love the simplistic look of this one, with the gold detail ends and basic black cord. You can style it a few different ways, which I also like! This is $1.64 so it's a total steal!
Absolutely no complaints about this piece. It's the right size, color and style. It looked just like the picture and what I was expecting! (I wish my picture actually did it justice).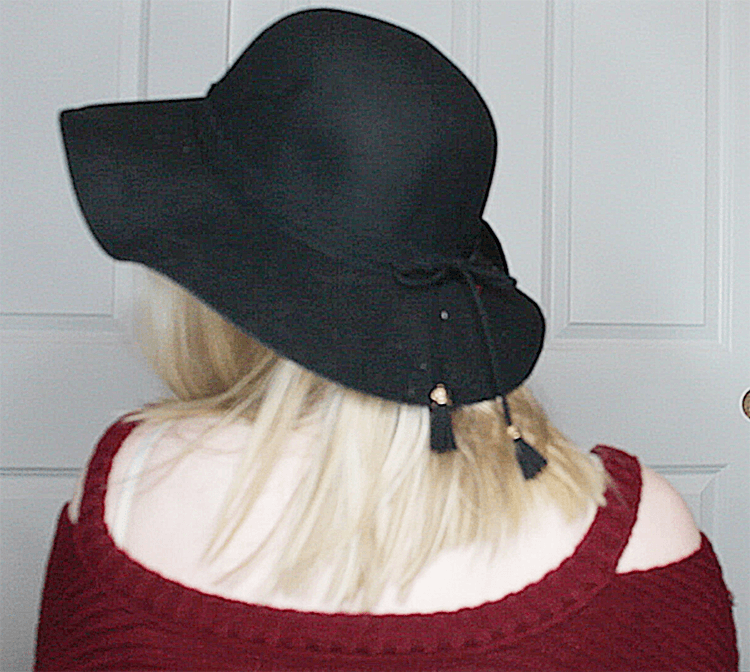 And lastly, this awesome hat! Unfortunately, it doesn't seem like it's available anymore so here's a similar one. If I can remember right, the price of this one was from $6-$8. This hat has a gorgeous doily/lace wrap around it with some gold bead accents and tassels on the end. It's sturdy around the part that sits on your head but the brim of the hat is pretty floppy, but that's probably the way it's supposed to be. I love the hat but I don't know if I like it on me. I'm not really a hat person and think that they just make me look weird – but maybe it's time to get out of my comfort zone! If you're looking for a good deal on a hat, I definitely suggest checking out Zaful for one!
As for a review on Zaful:
Their site is pretty easy to navigate, but they do have a ton of things so it's a little bit overwhelming to shop on the site. The prices do seem a little bit too good to be true, but you can be the judge of that if you plan on shopping with them. I have heard that the "65%" off special that they give to you through email is what the prices already are, you might get like a dollar more off, but I think it's relatively the same.
Shipping took as long as expected, it took a couple (maybe 3?) weeks which is normal for packages to come from China. I want to make a note that their processing time is 3-5 business days, then after the processing is done they ship it out, so its the processing time PLUS the shipping time for the package to get to you.
Customer service was as expected. I didn't really have to communicate with them, since I didn't have any issues with my package, but that might be a different experience for you! I have heard mixed reviews on customer service, but I'm pretty happy with the service I received (and I'm not just saying that).
As for the GIVEAWAY…
Visit this link and find your favorite item from Zaful, once you've decided what your favorite item is, copy the link and add it into the comments below the blog post (also add your e-mail address for a better chance for winning!) The giveaway ends November 30th (sorry for the short notice!) and 10 winners will be chosen to win a $100 giftcard to Zaful. Zaful will be choosing the winners and they will be notified via e-mail!
I hope you enjoyed the post!
Thanks for reading, as always <3
Xoxo, Rae
Disclaimer: Yes, this product was sent to me to review, but sponsorships/items sent to me do not alter my opinion in anyway. I'm here to help you (my readers) to find new products that you may have never heard about. I am all about giving 100% reviews, whether I'm paid for the review, sent the item or I purchase it myself. Just something to keep in mind for my past/future reviews.