Hey my loves! It's been quite a while, and boy, have things changed since I last wrote a post.
I am fortunate enough to be able to work remotely but I know that is not the case for the majority of people during this COVID-19 pandemic. I want to send a big thank you to all of the nurses, doctors and other medical professionals who are putting their lives on the line to fight this virus — your dedication and hard work does not go unnoticed.
I hope you have been able to keep yourself (and your mind) busy during this time. I have anxiety myself and every day seems to be more of a struggle, but I'm hanging in there, I hope you are too.
With all of this being said, sometimes it's nice to do something different for a change to help take your mind off of things, which is what today's post will be about.
Photowall is a company that specializes in wall murals, photo wallpapers and canvas prints. They are located in Sweden, which I think is awesome because I am part Swedish! (They offer free shipping to the US which is a huge plus!)
Photowall has a ton of different prints to choose from and you even have the option to upload your own photo. I spent a long time deciding which print I wanted and what style I wanted too. I live in an apartment so the wasn't a good option for me, so I decided on getting a poster. I love the style of this poster hanger, it's so cute and rustic looking. (The kit comes with a nail, but again, being in an apartment, I can't put nails into the wall, so I got some heavy-duty sticky hooks from Amazon which work perfectly.)
I was curious how the poster was going to arrive – if it would already be put together or if I would have to do that. It doesn't come pre-assembled but it is pretty easy to put together. I was also surprised by the quality of the Photowall poster – I was expecting a paper poster, but this is more durable. It feels kind of vinyl of some sort, but I'm not sure.
They give you picture instructions on how to put it together. I made the mistake of double knotting my knot, I was still able to make it work, but you really only need to knot the end of the string once.
You can choose from different sizes, I chose the 39×28″ sized poster and it fits perfectly above my bed! Now that bedroom has sort of become my office, it's nice to have something new for scenery and I've been wanting to put something in that spot for a long time now. Watercolor is super popular right now and I just loved the look of this mountain and tree landscape. The colors in it are also my favorite so I knew I had to get it. In the future, when I get my own office, I will definitely be purchasing a poster from Photowall to decorate it!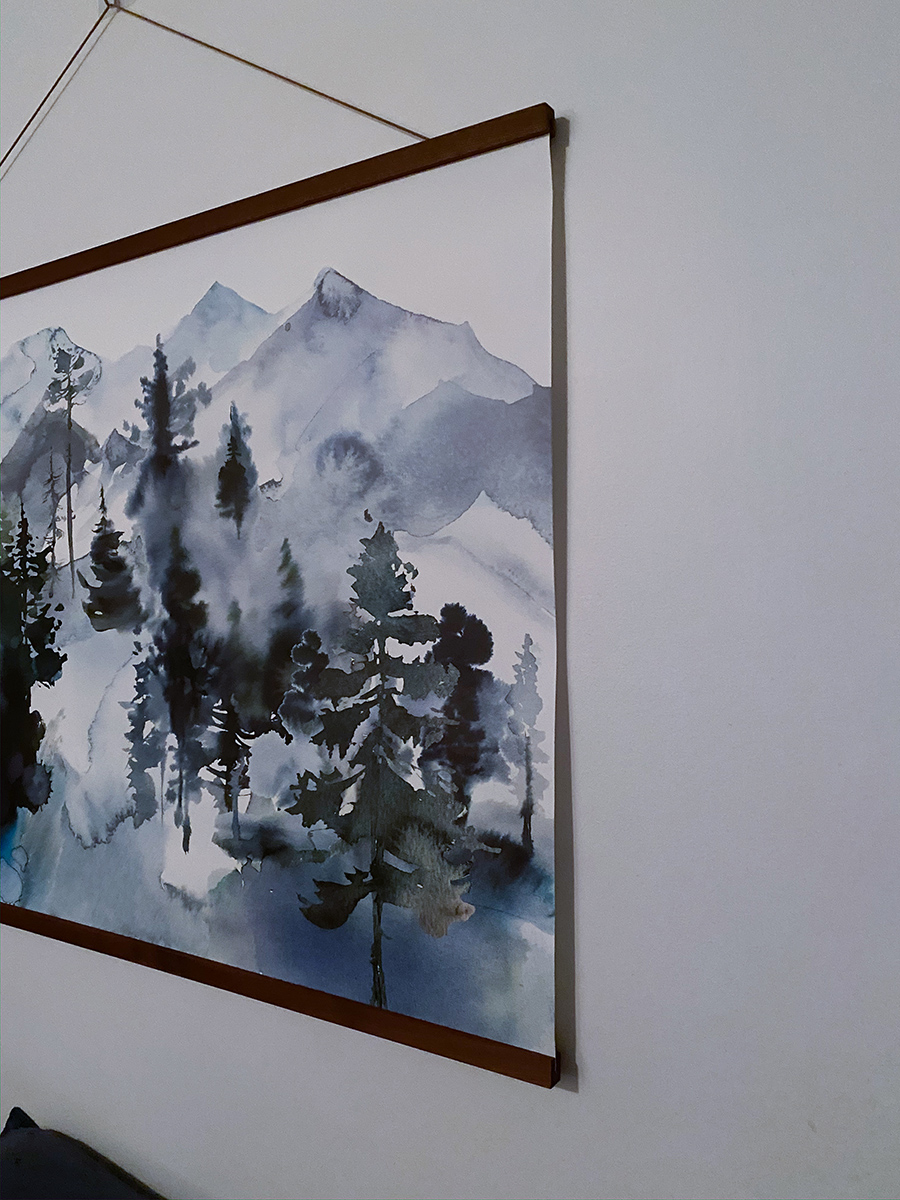 And of course, I had to take a selfie in front of it, because it also doubles as a great backdrop!
I want to thank Photowall for reaching out to me for this collaboration and they have provided me with a coupon code for my readers! This code is only good for one month (expires 5/6/2020) so make sure not to miss out! Use the code "raechic2020" to save 25% on your order!
What's the latest addition to your bedroom? Is it sheets, or maybe a new blanket? Let me know!
xoxo, Rae
Thanks for reading!
Disclaimer: Yes, this product was sent to me to review, but sponsorships/items sent to me do not alter my opinion in anyway. I'm here to help you (my readers) to find new products that you may have never heard about. I am all about giving 100% reviews, whether I'm paid for the review, sent the item or I purchase it myself. Just something to keep in mind for my past/future reviews.