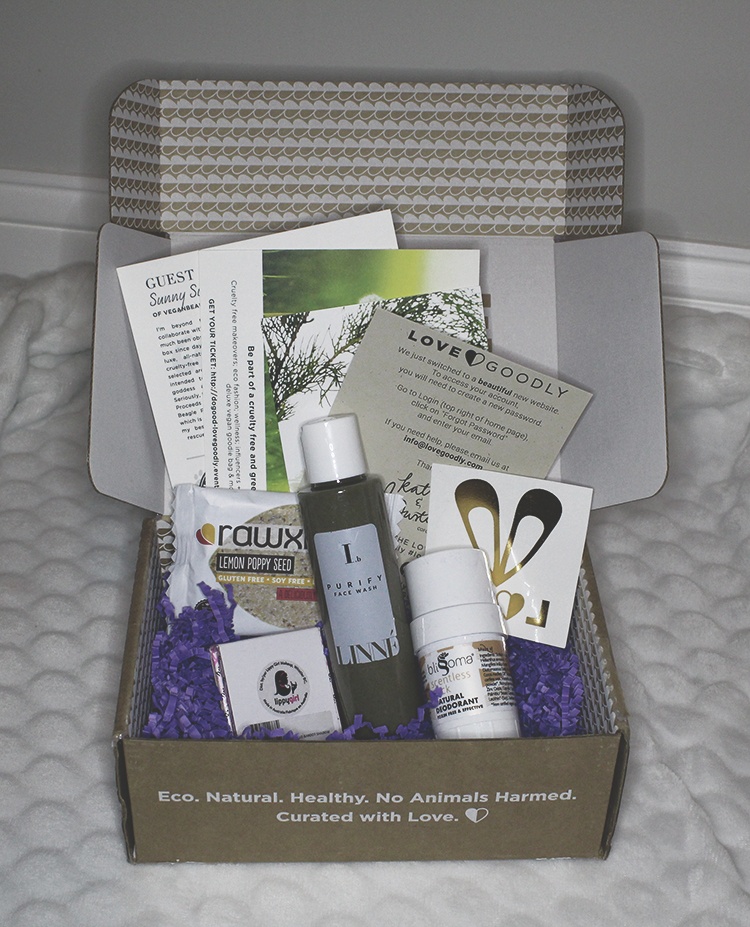 Hey loves! This is the second Love Goodly box I got and I'm still really loving the subscription service 🙂 It's a bi-monthly box ($29.95 USD) and you get 4-5 products in the box and it has a value of over $85 each time that are eco-friendly, cruelty free and non-toxic.
Here are the cards that came in the box, this box was actually curated by Sunny from Vegan Beauty Review! She featured some of her favorite products inside the box so I'm excited to try them out.
Here are all my goodies! I got a stick deodorant from Blisoma, a single eyeshadow from Lippy Girl, a Lemon Poppy Seed bar from Rawxies, face wash from Linne and a super cute gold foil tattoo!
This bar from Rawxie is a great treat and surprisingly, it was really tasty. I love finding new snacks through these boxes, so I will keep my eye out for these at the grocery store!
I love natural deodorants (I'm sure you're like "Rae, we know. We get it." but I just want to make sure that you know!) I haven't heard of Blissoma before so I am excited to try this one out. I do believe it has baking soda in it (which I react not so nicely to) but I am willing to give it a try. I currently love my current deodorant so I'll try this one out when I run out of my other one.
This face wash from Linne is actually a double duty product – it's also a mask! It's full size and is $58, so I'm pretty pleased with it just knowing that. Sunny raved about it so I am excited to try it out, I'll let you know what I think of it!
Here is the single eyeshadow from Lippy Girl, it's called Hello Bardot and is obviously black. I personally am not a fan of dark eyeshadows unless they're brown, but I might be able to use this at some point. Maybe for a soft eyeliner look? 🙂 It's not too pigmented but that's also kind of a good thing since black shadows can create quite the mess!
And lastly, this super awesome temporary tat with the LoveGoodly logo! I'm not sure if I'll ever use it, but it's super cute LOL.
Are you interested in trying out LoveGoodly? Get 20% off your FIRST box ($23.96) with the code "LOVEFALL"!
What's your favorite thing you got in a subscription box? Let me know in the comments! <3
Thanks for reading, as always <3
Xoxo, Rae
Disclaimer: This box was purchased with my own money and all opinions are 100% honest and my own. I am not being paid for making this post. This post contains affiliate links. Purchases made through these links help to keep Rae Chic up and running.