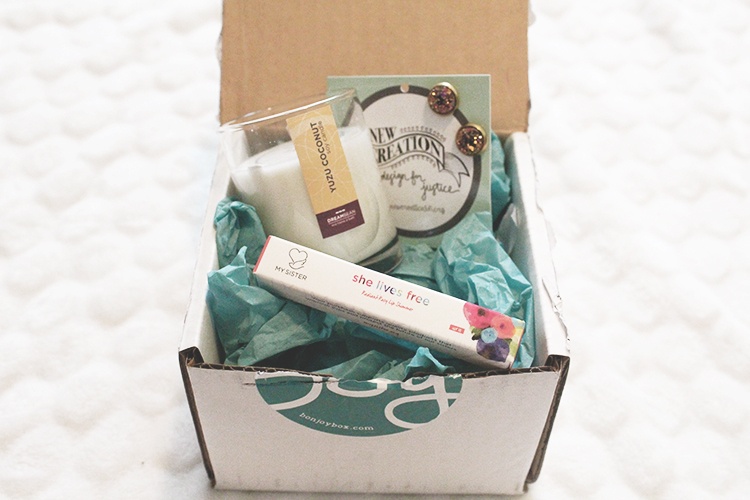 Hey babes! This has actually been a post that I wanted to get up ages ago, I just never got around to it. (Worst blogger award goes to me?) Anyways, if you didn't see my past post about the bonJOY May Monthly Box, check it out right now. I love the thought and message behind bonJOY because all of the products in their boxes actually help to support trafficked, exploited & at risk women around the world.
Pictured above is their Bitty Bundle 2.0, which will cost you $20 buuuut it's definitely worth it (for the products + the impact your purchase has!)
Here's a list of what you get in the box. Three items, but they have a large impact (plus, this little taste of these products can help you decide whether you want to subscribe to support the brands showcased in the bundle!) You also get a little bit of everything. A candle for some home decor & mood setting made by young moms in Chicago, a lip shimmer to keep your lips moisturized and fight human trafficking at the same time, and (my fave) a pair of earrings that are stunning, made in the USA and help to fight trafficking as well.
I apparently didn't want to take a picture of the candle when doing these photos…so insert my cute instagram post of it with my salt lamp now…
In the bitty bundle, you get the Yuzu Coconut votive. I really don't even know how to describe the scent of this candle, but it's absolutely amazing. I like to light it at night to help me relax a little (the salt lamp helps with this too!) I will definitely have to purchase a full sized one once this one runs out. FYI, by purchasing from Bright Endeavors, you are providing a job for a young mother and you'll leave an impact on her & her child (or children). I love companies that do good, so I always try to support business like these + I love shopping small and find it very important.
Here is the lip shimmer in Radiant Rosy from My Sister. I haven't used this yet, since I'm not a huge fan of glitter lips, but I am still keeping it in my collection because I'm hoping someday I will end up trying it. A percentage of each purchase from My Sister goes to their non-profit partners to help raise awareness in the fight against sex trafficking. They have more than just lip products though! I just noticed that they have a lot of cute t-shirts that I would love to have in my closet, as well as jewelry, flash tattoos and buttons.
Ugh, I love these earrings from New Creation so much. I was looking for a pair of druzy studs for such a long time, so I was super stoked to see these featured in the bundle. New Creation combats the issue of sex trafficking through education, awareness, responsible consumerism, and the hope of Christ. They are located in Virginia and even have a store where you can shop in if you're ever in the area. They have beautiful jewelry and so many more products that you'll ferrrr-sure fall in love with.
If you couldn't tell, I loved everything in this bundle and I can't wait until they release the bitty bundle 3.0 because I will definitely snatch it up!
What do you think about the bitty bundle? Do you want one? (P.s. they make great gifts!)
Thanks for reading, as always <3
Xoxo, Rae
FTC: This was purchased with my own money. I am not being paid for this post.