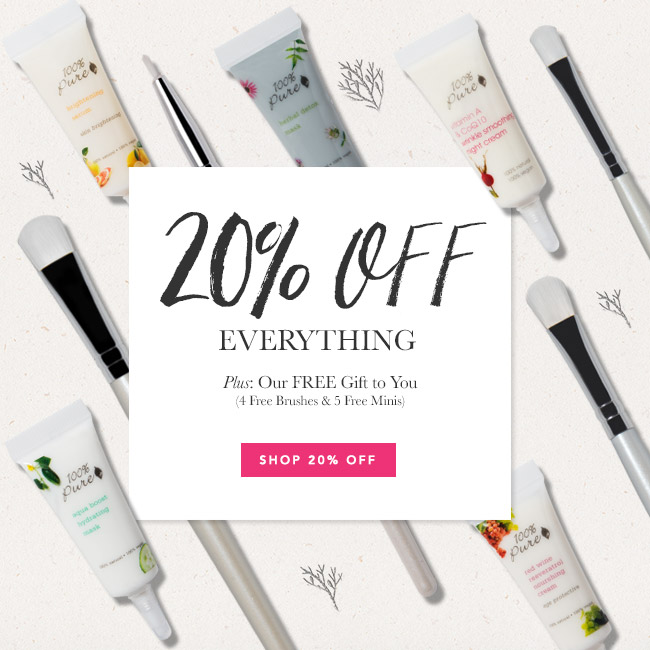 100% Pure is at is again! They have an amazing deal for all of us…20% off everything (purchase must be $29+ to qualify), PLUS 4 free VEGAN brushes and 5 free minis!
The sale is active NOW (12/8/16 @ 10AM PST) and will end on December, 15th 2016 @ midnight (PST).
USE THE CODE 
JingleAll

!
20% off ALL products on the site
Set of 4 free 2015 makeup brushes
5 travel minis including

Herbal Detox mask 0.3 oz
Aqua Boost Hydrating Mask 0.3 oz
Brightening Serum 0.3 oz
Red Wine & Nourishing Cream 0.3 oz
Vitamin A & CoQ10

(These are subject to change, so make sure to place your order fast! Also, not all of them may be vegan, so make sure to check the ingredients if you are only looking for vegan products)
This is really an amazing deal, so I suggest taking advantage of it! You can save a lot and get some free extras, that you can keep for yourself or give as gifts!
During this sale, I'm going to be picking up…


Luminous Primer
The Luminous Primer for $35. It's silicone free, full of antioxidants, and blurs all lines to create a flawless finish! I definitely need some extra luminosity during these cold months since my skin is so dry.

2nd Skin Foundation: Creme Olive Squalane + Fruit Pigments
I'll also be picking up the 2nd Skin Foundation in the lightest shade, Creme. It's a serum foundation that's vegan! It has anti-aging antioxidants in it and it has adjustable coverage, which is something that I need. I've heard mixed reviews about it, but I figured I would give it a go and give you my opinions on it! (I love how 100% Pure has a 100% guarantee and if you're not satisfied, you can do returns with no hassle!)

Herbal Detox Mask
I love using masks but still haven't found one that works 100% for me, so I want to try out this detox mask. I've been having a lot of hormonal breakouts and I feel like a detox mask would help to draw out the impurities on my skin before they start to erupt and cause problems. It also has some pretty great reviews, so I'm sure I'll love it!
What are you planning on picking up during this sale? Let me know! 🙂
Thanks for reading, as always <3
Xoxo, Rae
Disclaimer: This post contains affiliate links. Purchases made through these affiliate links help to keep RaeChic up and running. There is no obligation to use my affiliate links, since the sale is available to all with the promo code! I appreciate your kind support for RaeChic.