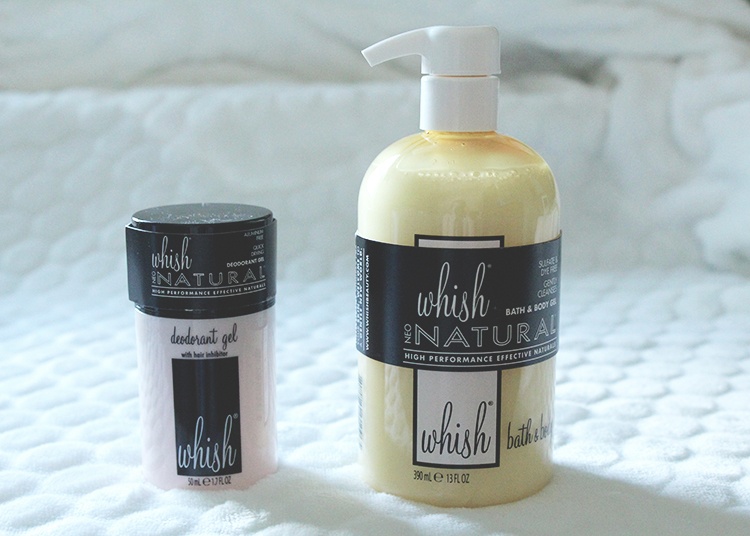 Hey lovelies! I'm excited to tell you about these products from Whish that I was able to try out!
Whish is a company that is dedicated to the discovery of natural ingredients which enable intelligent choices for your skin. All of their products are made in the USA with earth friendly packaging and ingredients. None of their products contain parabens, sulfates, TEA or DEA, petrochemicals, or phthalates (yay!). They are also Leaping Bunny certified!
They have skincare products, hair removal products, self tanners, anti-aging products and some body treatments (like body scrubs and body butters). You can purchase their products straight from their website or from Ulta. Now onto the review!
First up is the Bath & Body Gel in Coconut (13 oz for $16). This comes in 9 different scents so I'm sure you'll find one you love! The body wash contains organic aloe, organic raspberry butter and organic shea butter so it's a super moisturizing product – which is something my body needs. So while moisturizing, it also cleanses the skin with it's unique blend wheat, sugar and corn derived ingredients. Organic cucumber extract and organic marigold soothe the skin so your skin will be totally refreshed and ready to take on the day! (* I just want to let you know that these body washes do contain beeswax, so if vegan products are your thing, I would avoid this! 🙂 )
I have to say that this is probably the most gentle and effective body wash I have ever used. Other body washes (even those that claimed that they were moisturizing) totally "stripped" my skin and left it feeling so dry and tight – which isn't a good feeling at all. I also love the scent because it's not too overwhelming, it's just right. I also love the pump on the bottle so I don't have to fumble with squeezing a bottle.
Overall, highly recommend this body wash if you're looking for something that will leave you smelling yummy and feeling super clean & moisturized!
You guys know how I love natural deodorant so I was super essssssicted (in a Kathleen Lights voice) to try this out. I think that this is a really unique product because it's gel formula AND it also reduces hair growth. Yes, you read that right! This deodorant has a natural hair inhibitor in it so you'll be left with smoother underarms, for longer. This is an aluminum free deodorant that smells great and you'll feel better that you're using a natural product on your body, I promise. It is $18 butttt, I feel like you can't go wrong with a deodorant that reduces hair growth.
This deodorant is formulated with organic saccharomyces ferment, which is a bacteria that naturally combats odor. Chaparral extract is the ingredient that reduces hair growth and it's loaded with antioxidants. Just like the body wash, this deodorant contains ingredients to soothe the skin as well!
This is how the deodorant gel looks when it comes out of the top. You have to twist the top in a clockwise motion (and for whatever reason, it's super hard for me to do this? I struggle with getting some out, but it does come out eventually!) and apply a small amount to each underarm. I love the cooling sensation of the gel, maybe that's a weird thing but it just feels nice ok. This deodorant also smells really good and does a good job of keeping the odor at bay. If you wanted to try this out before purchasing the full size, they also have deodorant wipes available.
Although the deodorant has a higher price tag, I do enjoy using it, I haven't seen any results of slower hair growth but I will try to keep you updated if I notice anything different!
Have you tried out products from Whish before? Do you want to? Let me know in the comments below 🙂
I hope you enjoyed the post and thanks for reading, as always! <3
Xoxo, Rae
Disclaimer: Yes, these products were sent to me to review, but sponsorships/items sent to me do not alter my opinion in anyway. I'm here to help you (my readers) to find new products that you may have never heard about. I am all about giving 100% reviews, whether I'm paid for the review, sent the item or I purchase it myself. Just something to keep in mind for my past/future reviews. I am not being paid for this post.