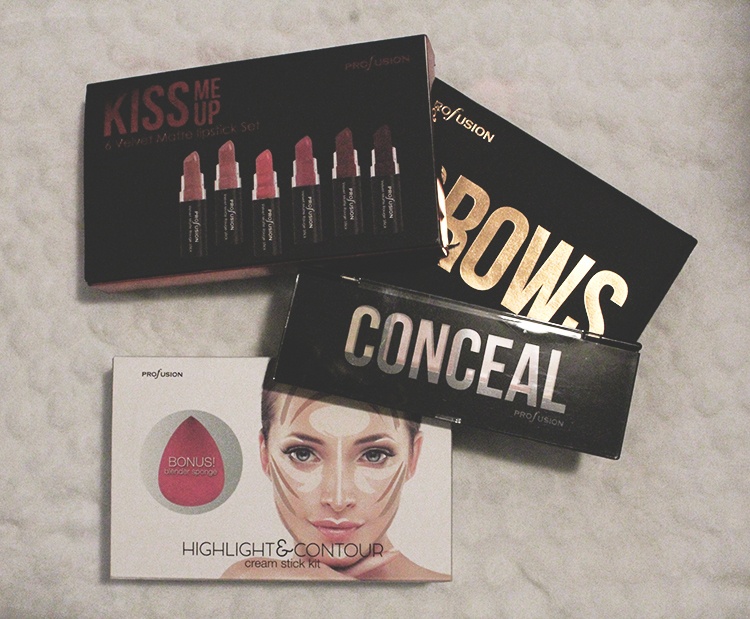 Hey loves! I'm part of the Profusion Beauty Insiders program, so Profusion gave me some goodies to try out and share my opinion on. Keep on reading if you're interested!
Brows are all the rage, so I was pretty excited to see this brow kit, since I haven't really had anything like this before. It costs $12.49, which isn't bad at all because you get a lot of stuff.
Included in the kit:
Large Mirror
Clear Eyebrow Gel
Eyebrow Wax
Dual-Ended Eyebrow Pencil
2 Eyebrow Highlighters
8 Eyebrow Powders
5 Eyebrow Stencils
Slanted Tweezers
Spoolie Brush
Dual-Ended Angled & Shading Brush
I liked that the kit had everything in it that you would need to do your brows (or someone else's if you want to become a MUA). I think that there is enough diversity in the brow powders, so you can definitely use just one powder on it's own or mix and match to create your own perfect shade. Their pigment isn't the best and they are slightly patchy, but they are workable.
I think the stencils are great if you want to shape your brows as a guide, but I wouldn't really recommend using them to fill in your brows since it is hard to hold them in place and attempt to fill them in too – but to each their own!
The brush in the kit wasn't the best of quality and the bristles were super soft (which I'm not sure if that's a good or bad thing, but I couldn't get a sharp line).
On the left is brow powder swatches with the brush and on the right are swatches of the dual ended brow pencil.
Rating: 3/5 – good value, but could feature higher quality powders/tools.
This is another concealer palette from Profusion, seems like they just changed the packaging since the pigment and texture are the same as the previous one I received. This is $4.99 and you get a lot of concealer so it's definitely worth it. I use my other concealer palette daily, so I do recommend this one. I do wish though that it had a green concealer in it rather than the two salmon/orange shades, but I know that they carry another concealer palette with a green and lavender concealer in it.
Rating: 4/5 – good value but would be nice to have more color correctors.
Next is the highlight and contour stick kit – I haven't really dived into the whole contour fad but I think this kit makes it a bit simpler. This is $9.99. The sticks are easy to use to layout the "map" of contouring/highlighting on your face – but with me being so pale, I don't really think these colors work for me, but for someone else they might. They aren't super creamy or smooth but they are workable and blend without too much work. I haven't used the sponge from the kit but I've heard that Profusion's sponges are good quality so I guess I'll have to test that out for ya at a later point.
Here are the swatches of the sticks! They are a little bit dry, if you couldn't tell by all of the texture you can see, but you can work around it.
Rating: 3/5 – wish the sticks weren't too dry.
I saved the best for last! Profusion recently launched some matte lipsticks and I think this set is a good value for being so inexpensive. It's $6.99 and you get 6 lipsticks, all of which are their most popular shades. The colors range from nudes to dark vampy colors. I definitely think this kit would be great to give as a gift to your favorite makeup lover!
The tubes feel cheap, but you really can't expect more since you are paying so little.
Here are the swatches, I think the nude shade, the dark red shade and the dark purple shades are my favorites. These apply very smoothly and feel nice on the lips without drying them out (hard to believe, since they are mattes!) I would say their wear power probably isn't that great since they wiped off so easily with a makeup wipe, but touch-ups aren't the end of the world.
Rating: 4/5 more color diversity – I feel like a lot of them are too similar. 🙁
Overall, I'm pretty pleased with these goodies from Profusion! For the price you pay, you get decent quality products and they perform better than what you would think.
What's your favorite product from this "haul"? Let me know in the comments below!
Thanks for reading, as always <3
Xoxo, Rae
Disclaimer: Yes, this product was sent to me to review, but sponsorships/items sent to me do not alter my opinion in anyway. I'm here to help you (my readers) to find new products that you may have never heard about. I am all about giving 100% reviews, whether I'm paid for the review, sent the item or I purchase it myself. Just something to keep in mind for my past/future reviews.