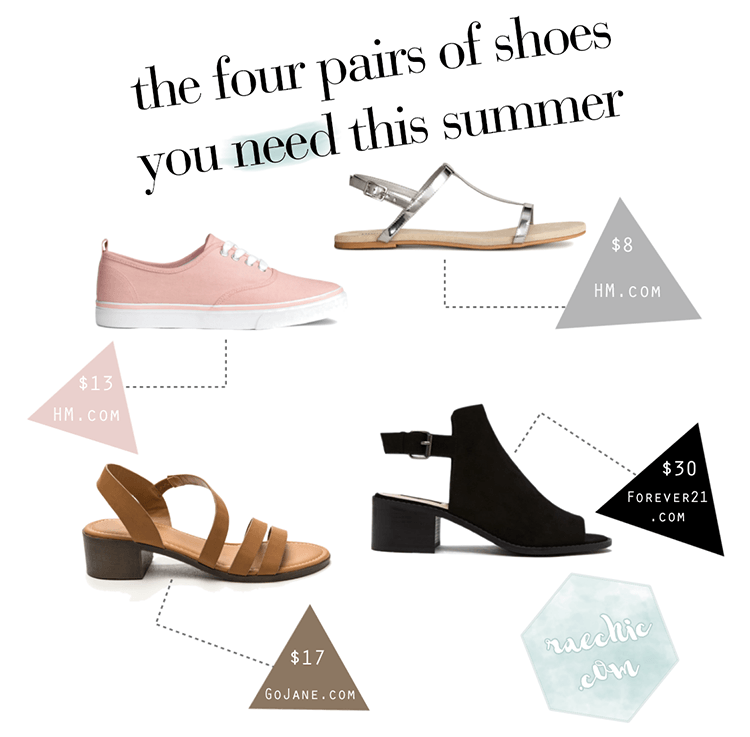 I'm a shoeaholic, but what female isn't? I'm sure if I bring home one more pair of black boots, my boyfriend might kick me out.
Today's post is about the shoes that you need in your closet this summer (or even year round) and I'll let you know why you need them!
Powder Pink Sneakers from H&M $13
I love sneakers because I feel like they can add some spunk to your outfits. You can dress them up or down, wear them with socks, or without (if you want smelly feet, but hey, I won't judge!) I think these powder pink sneaks are perfect for summer and will compliment any outfit. I would definitely wear these with some lace topped socks (like these!)
Silver Strappy Sandals from H&M $13
I'm not a flip flop person, I just feel like they're weird shoes so I like to stick to sandals. (I know that sounds strange). I think sandals also look better than flip flops do, but that's just me. I ain't hating on the flops, they just aren't my thing. These strappy sandals from H&M are super cute and inexpensive. I love the silver finish in these because they're a little bit different. I think these would look cute with a flowy dress, or even a nice casual outfit.
Double Up Faux Leather Block Heels from GoJane $17
These are the cutest sandal-heel hybrid. (I recently purchased them for myself and I can't wait for them to come in). I think these lil' heels will spice up any outfit and I personally will be wearing them with my summer dresses. You could dress up a casual outfit and look like you spent lots of money to look cute, but you didn't. If I end up liking them enough, I might get them in black too. I think these could also work in spring too. They are a must have!
Faux Suede Slingback Booties from F21 $30
These are the perfect going out shoes! The heel isn't too high, so they will be comfortable. They even have a cute peep toe so you can show off your fresh pedicure. Everyone needs a good lil' black pair of booties for every season, and these should be your summer go-tos. I need to get myself a pair like these!
I hope you enjoyed today's post! Thanks for much for reading, as always <3
What are your must have shoes for summer? Let me know in the comments below!
Xoxo, Rae