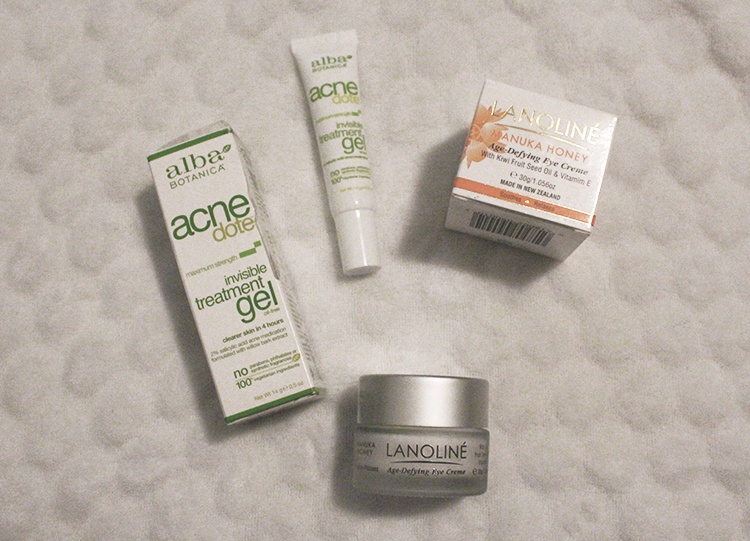 Marshalls and TJMaxx are some of my favorite places to get beauty products, especially for an outstanding price! I usually pop into either store a couple times a month, since they are always getting new stuff in. I picked up a couple skincare items so if you're interested in hearing about what I got, keep on reading!
As you know, I'm on birth control and it's been making me breakout like crazy! Some weeks are better than others but I try my best to keep my breakouts under control. I was using the ELF Acne Treatment Gel but found that after awhile, it stopped working for me. So I picked up this acne treatment from alba botanica! I've used alba's products before and really liked them so I was happy to grab this, and I think it was only $4 or so. I wouldn't say that it works amazingly, but it does do a good job of drying out my spots to help them "heal" faster. My only issue with this is that when you try to get some out, it's like a fricken' river coming from the tube so you end up wasting a lot but other than that, I do like using it on my extreme problem areas.
I also picked up this Manuka Honey eye cream from the brand Lanoliné! I had never heard of the brand before so I wanted to try it out and I love it. It smells so good and works very well for me. I apply it at night and sometimes in the morning, if I'm not going to be wearing foundation because it doesn't sit well under makeup at all. It's also highly concentrated so you really don't need a lot! I grab a little dollop (well not really, I just dip my finger tip in then make three dots under each eye and pat them in gently). It has helped my skin appear firmer and smoother (again, not like I have wrinkles anyways, I just like to start on important skincare early). This was also under $10, I think? So it was a good deal on an eye cream and I'm so glad I got it!
I hope you enjoyed the post! What did you buy recently? Let me know 🙂
Thanks for reading, as always <3
xoxo, Rae