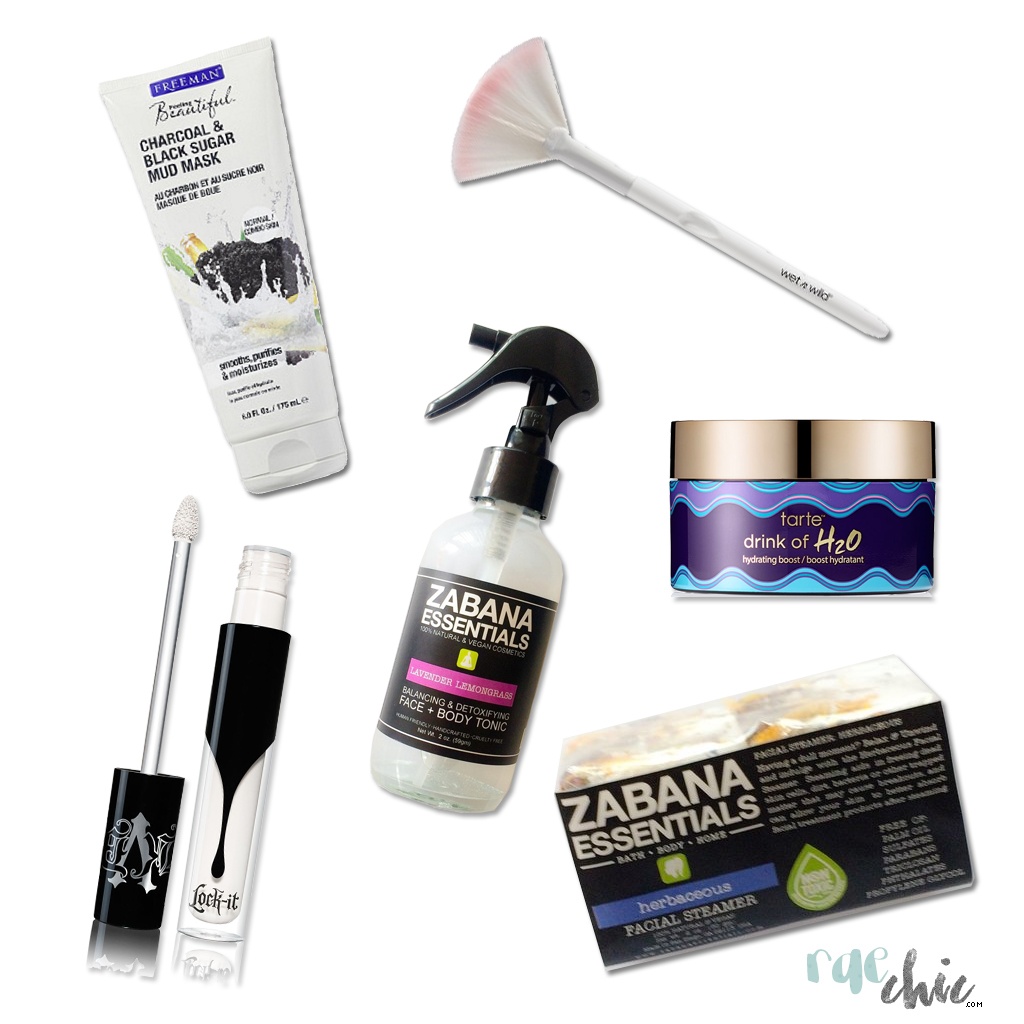 I usually impulsively buy things for no reason, so I'm trying to be good and keeping wishlists so I can buy stuff for when I run out of the items I'm already using, even though this wishlist doesn't really include anything I use daily, but you know what I mean, right? I also just like wishlist posts so I can see what other people are lusting after, I find that it usually introduces me to new brands and products, so without further adieu, let's get wishin'!
Freeman Charcoal & Black Sugar Mud Mask
I've been going a lil' mask crazy lately because I've been having a lot of hormonal breakouts (due to my birth control), so I'll try anything that I think would help. This mask from Freeman is supposedly a dupe/alternative to the GlamGlow Super-Mud mask so I would like to try it out because GlamGlow isn't cruelty free (as far as I know) and it's way more affordable than the $70 mask. I'm hoping to go to an Ulta by me soon to check this out and some other masks. I just really haven't found anything yet that's really cleared up my skin so I'm hoping if I try this someday, it'll do the job.
Wet n Wild Fan Brush
I've heard a lot of people raving about the Wet n Wild brushes, I just never got around to purchasing them. I want this fan brush to apply highlighter, because fan brushes are the ones that people seem to be using for highlighting, I honestly just use my finger, but I want to try something new. I also thought why not give this brush a try? Because it's under $5, so you really can't go wrong.
Kat Von D Lock-it Concealer in White Out (Or my shade)
Everyone's been going crazy about Kat's new release and I'm so full of envy when I see people on Snapchat open their PR packages from her haha. I think white concealer is unique (I've personally never seen it before) and I wonder if it would actually work for me, since I'm so light. I am kind of afraid to leap in and get the white, incase it doesn't work out for me, so maybe I would grab the proper shade for me. By the product picture, it looks like I'd love the type of applicator it has since it's not a normal dove foot (maybe I'm just making things up? Who knows). It's a pretty pricey concealer but I'm just curious to see how it would work out!
Zabana Essentials Lavender Lemongrass Face & Body Tonic
I haven't tried anything from Zabana Essentials, but I was browsing their website, and I want it all! They have two different types of face & body tonics, and I think the Lavender Lemongrass one would be best for me since it's a balancing + detoxifying one (The other one is a brightening + rejuvenating one…but maybe I should just get both and get the best of both worlds.)
Tarte Rainforest of the Sea H20 Hydrating Boost
This is a gel-like moisturizer and I love it. I got a sample in a discovery set from Sephora with some other Rainforest of the Sea goodies. It's super hydrating and doesn't irritate my skin or clog my pores. My face also doesn't feel sticky after using it, like other moisturizers do. It is quite pricey ($40), but I do like it. (If you know of any cheaper alternatives, let me know!)
Zabana Essentials Facial Steamer
I think this product is a cool concept, and again, I'll try anything to try to clear up my skin! You add one steamer (I think) to a bowl of hot water and drape a towel over your head to let the steam open your pores, so the steamer can do it's job. I feel like this would be super relaxing on a pampering night and I realllllly want to try these out asap!
What's on your beauty wishlist? Let me know in the comments below 🙂
Thanks for reading, as always <3
xoxo, Rae