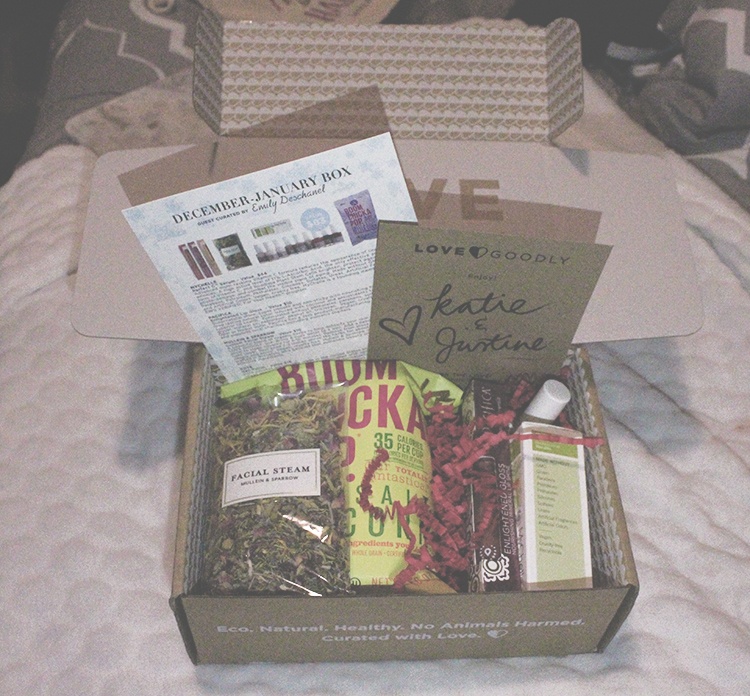 Hey loves! I hope you had a very Merry Christmas or Happy Hanukkah, or happy whatever you decide to celebrate! I enjoyed spending time with my family and loved seeing the looks on their faces as they opened the gifts I got them, which has always been my favorite thing about the holidays. Oh, and the food. The food is pretty great too.
Toooooday, we're gonna take a look into my Love Goodly subscription box – which has been one of my favorites, and I have a discount code for you to try it out too! Get 20% off your FIRST subscription box with the code "LOVEFALL" (code expires 12/31/16, so make sure to use it soon!)
This box was curated by Emily Deschanel, which is pretty cool! (I've always been curious as to how much work goes into curating these boxes, how about you?) The box supported their partner the Farm Sanctuary, and most of their boxes help to support their partners, so it's always a plus!
Here are the goodies I got! Two skin care items, 1 snack and two makeup items (lipgloss and nailpolish).
This Boom Chicka Pop popcorn was the bomb. It was soooo yummy and I actually ate the rest of the bag in between photos. You can buy a 6pk of the 0.6 ounce bags from Target for $5, which is pretty sweet if you ask me! They're a guilt free snack and treat so I totally recommend them.
This is a really cool idea, it's a blend of herbs that help to detoxify your skin when you put it in a bowl of hot water and hold your face over the bowl for a nice facial steam. This is a nice sample size but the full size retails for $22. I think this would be nice to use when you want an extra treat for you skin. I'm excited to try it out 🙂
I looooove Pacifica so I was pretty stoked to get this lip gloss. I'm not a huge lip gloss person but I wore it on Christmas Eve and it looked really nice. I got the shade Nudist I believe and I really like it. Pacifica's lipglosses go for $10 so that's a good portion of the box right there!
I've heard good things about MyChelle skincare and I've been wanting to try it out, so I'm stoked that I got this in the box (That's the good thing about subscription boxes! You get good samples to try out). This retails for $44 so it's a total steal, since that's more than what the box costs and it's a full size product! They suggest using this in the morning after cleansing and moisturizer (if you're planning on layering). I've used it a couple times and I'm still waiting to see results, but so far so good.
Lastly is this nailpolish from Cote. Cote is toxin free nail polish brand that has loads of colors. Their polishes seem to run for $18 each, which isn't extremely bad for an indie brand. I got the color No. 4 and it looks really good! I like the subtle hints of shimmer, so it's definitely an everyday color.
Overall, I'm pretty pleased with this Love Goodly box, as I have been with the ones in the past 🙂
Thanks for reading, as always <3
Xoxo, Rae
Disclaimer: The subscription box was purchased with my own money. This post may contain affiliate links. All purchases made through affiliate links help to keep RaeChic up and running.