Hey lovelies! I have heard of Love Goodly before but never bothered to subscribe to it prior, but I really wanted to try it out since they offer cruelty free, non-toxic and eco-friendly products!  It's a bi-monthly box ($29.95 USD) and you get 4-5 products in the box and it has a value of over $85 each time. I think I will keep this box for the next couple of months, to see what other products I get! I don't think it's too pricey for the types of products you get.
So upon opening, you get some cute lil' cards. One thank you card from the founders of Love Goodly, a recipe card and I totally forget what the last card was for (don't hate me).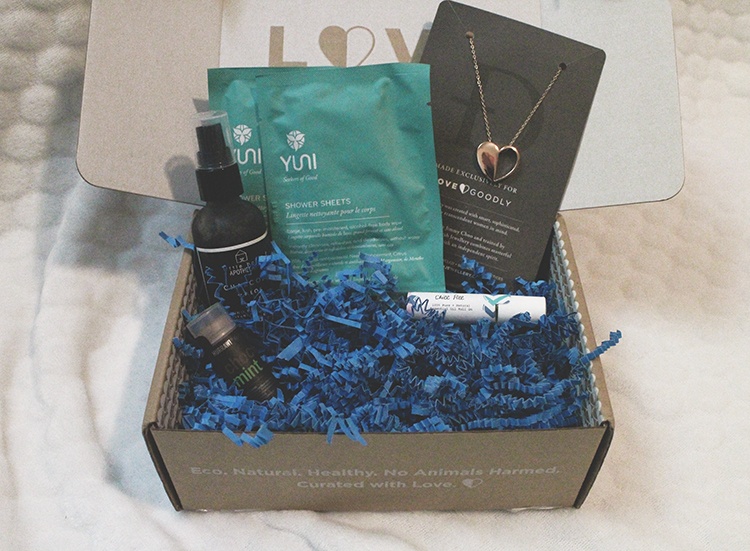 There was pretty blue worms in this box! Not sure why, but I love having lil' wormies in my packages, I blame Bunny (grav3yardgirl) for this. Anyways! I got 5 products in my box, 1 of them being a cute necklace that's actually Love Goodly's logo.
Here are le items! I think the majority of these are full sized items, although the shower wipes from Yuni are one time use.
I love this necklace! I think it's really cute and simple, I will definitely be dressing up my outfits with this gem.
These are single use shower sheets from Yuni. They are biodegradable and will wipe away dirt, sweat and odor while on the go. I'm excited to try these out! I think they would be great for after the gym (which I don't go to) or maybe even after the beach to just freshen up.
I'm really excited for this! This is a foaming face cleanser from Little Barn Apothecary. It's formulated with activated charcoal to deeply clean your pores and to help prevent breakouts. The aloe gently hydrates the skin to prevent over-drying of the skin. I've been breaking out a lot lately and although it's all hormonal acne, I hope this cleanser will help me out a little bit. It also has really good reviews on their website.
I've heard of Hurraw! but have never tried them, and I'm always running out of or losing my lip balms so I'm glad I got this! This is an exclusive to Love Goodly & to this Aug/Sept box. It's chocolate mint which is one of my favorite combos, so I'm sure I'm going to love this. Hurraw! has a ton of different flavors on their website.
This is an essential oil roll on from the brand Orglamix. It's called Chill Pill and I can see why! On their website, they say to apply some on temples, earlobes and the back of your neck when the world feels like it's closing in on you (so when you feel anxious or worried!) I haven't tried this yet but I am looking forward to it.
Overall – super stoked about this box! I am pleased with everything I got and it's stuff that I will actually use unlike some past subscription boxes I've gotten.
Are you subscribed to Love Goodly? Do you want to try it out? Let me know!
Thanks for reading, as always! <3 I hope you enjoyed.
Xoxo, Rae
Disclaimer: This box was purchased with my own money and all opinions are 100% honest and my own. I am not being paid for making this post. This post contains affiliate links. Purchases made through these links help to keep Rae Chic up and running.