Hi my loves! If you missed out on my past review of products from Foxbrim, click here to read it!
So for my first post about Foxbrim, I was able to have a friend take some amazing pictures for me and I tried to get my boyfriend to take some, but he definitely is not an Instagram Husband by any means, haha, so I apologize for just the product shots. I wanted to try something new out with my pictures, so let me know if you like the fairy lights? I'm always looking for feedback! In this package from Foxbrim, I got some hair care products and some skincare products which I've been trying out to share what I think with you!
Natural Soap & Wash // $16.95
This is an all purpose wash – it's good for your face, hands, hair, and body! Since it contains natural ingredients, it's going to be gentle on your skin and is safe for sensitive skin types. I've used this on my face and was really surprised, it didn't dry me out at all and evened out my skin-tone! I also love that this is a multi-purpose wash so it's good to bring with you on travel to save space in your bag! It's also a decent size so it's a good buy for families, especially because a little bit goes a long way.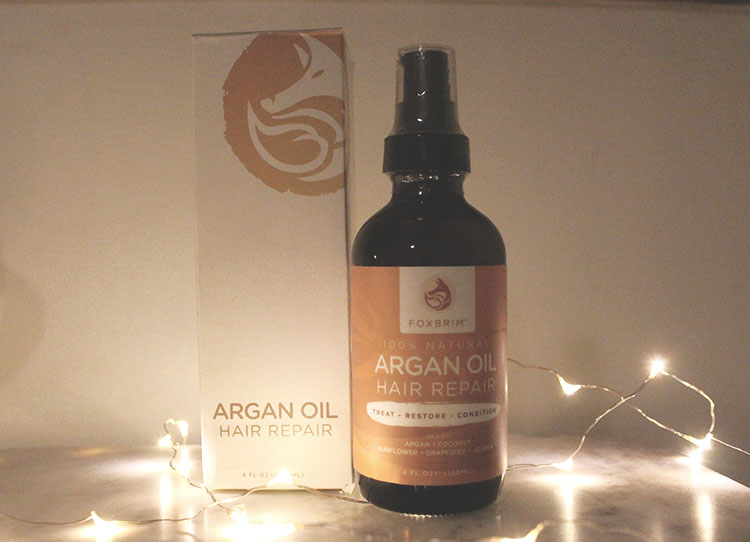 Argan Oil Hair Repair // $26.95
I've always been afraid of hair oils just because I don't want my hair to get too greasy too quickly, but hair oils can actually be really effective on the hair. My hair is pretty dry since I'm a blonde, it's also incredibly fine and thin so I need all the help I can get. This hair repair oil is formulated with argan oil, coconut oil, sunflower oil, grapeseed oil, jojoba oil – which are really beneficial for your hair! You apply this to dry hair, leave it on for two-hours or overnight, then wash your hair with shampoo to make sure all of the oil gets out. You can also use this as a styling oil and I must say – I'm super impressed with this! My ends look SO much better and you can tell the difference. It is a bit pricey, but a little bit goes a long way and I really think it's worth it, especially if you use a lot of heat on your hair (personally, I don't but I still have everyday damage on my hair).
Soft & Light Detangler Spray // $15.95
This has been a lifesaver for me! Having hard water (lots of minerals in my water) puts a toll on my hair and dries it out and also makes it difficult to brush. I'm so happy I found this detangler spray! It works really well and doesn't take a lot of product to do it's job (I bet you're seeing a trend here). You're probably wondering what "soft & light" means, right? The soft comes from how your hair will be after you use it, and the light is because it won't weigh your beautiful locks down! My hair gets greasy pretty quickly and I'm surprised that this doesn't make it worse but it really doesn't. It just makes it easier to brush my hair and leaves it nice and shiny and smooth. I definitely recommend getting this!
Argan Oil+ Shampoo // $15.95
I guess I'll just continue on with the hair care products! Aloe, argan oil, B5 + more ingredients work together to do wonders on your hair. I'm not a fan of the smell of the shampoo, but that does go away after you use your conditioner afterward (plus, I also use the detangler spray and that smells good!) I've noticed that after immediate use of the shampoo my hair feels a little dry, which is why I only use it a couple times a week. I make sure to rinse it really well and give my hair a minute to soak up my conditioner before rinsing it out, but other than that & the smell, I do really like it. I have seen an improvement with breakage, especially since I'm using some of their other hair care products. If you're looking for a natural shampoo, definitely check this one out!
Exfoliating Tea Face Scrub // $16.95
I love scrubs. I don't really know why, but I just do. My shower is full of different ones for my body but I haven't tried out a new facial scrub yet so I was excited to try this out. It has a pump bottle, which was new to me since most scrubs come in a tube or a jar. So as you guys know, I've been getting a lot of hormonal acne lately and there's not a ton that I can do about it, but I can try to reduce redness and prevent future breakouts. I love this face scrub because it's gentle and won't irritate my skin any more than it already is. It's also full of anti-aging and antioxidant ingredients, so that's definitely a plus. I feel like it really balances my skin and I've been using it a couple times a week and I've been loving the results!
Makeup Remover & Facial Oil // $13.95
Lastly, I received this makeup remover/facial oil. I feel like facial oils are all over the market now and people are swearing by them and after using this, I can see why! I love that this is a makeup remover and facial oil in one. I feel like most makeup removers don't do their job completely, or they strip the skin of all the natural oils that we need. The oils help to break down your makeup while hydrating and nourishing your skin, so no irritating cleansers are needed which I love. I haven't been wearing a ton of makeup lately, so I mainly use this on my eyes and it takes off mascara so quickly + the oils will help to hydrate my lashes!
I hope you enjoyed the post! Do you see anything you want to try? Let me know! 
I also have a discount code for my readers. Get 15% off ANY and ALL Foxbrim products with the code "RAECHIC15"!
Thanks so much for reading, as always <3
Xoxo, Rae
Disclaimer: Yes, these products were sent to me to review, but sponsorships/items sent to me do not alter my opinion in any way. I'm here to help you (my readers) to find new products that you may have never heard about. I am all about giving 100% reviews, whether I'm paid for the review, sent the item or I purchase it myself. Just something to keep in mind for my past/future reviews.
This post does not contain affiliate links.