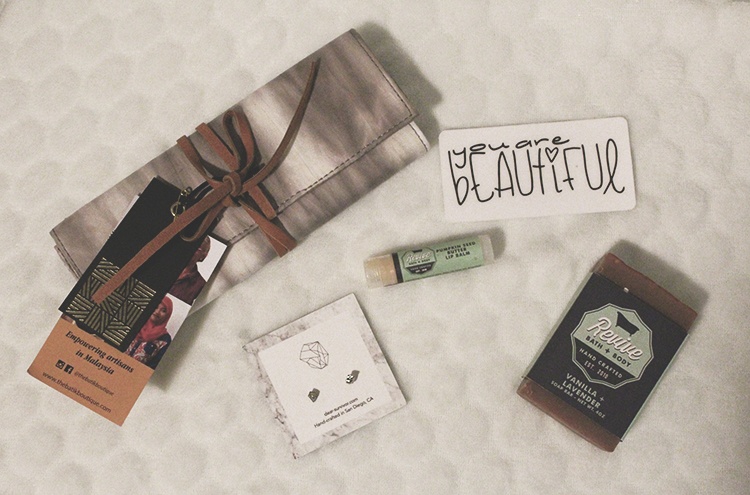 I seriously love getting mail and one of my favorite things to get in the mail is subscription boxes. I've gotten two bonJOY boxes in the past and I loved them, so I definitely had to get my hands on this box! I bought this during the pre-sale, but it is still available here. (Not an affiliate link!)
It's $49 and you get 5 items, and all of the items are beyond fair trade & help to support women who have survived human trafficking, at risk women or disadvantaged groups (it's all about giving back, which I love!)
I got a bath soak from Revive in the May Monthly Box, so I was happy to see them in this box again! (I think bonJOY has them a lot in their boxes) This is a vanilla & lavender bar soap – and it smells incredible. I haven't used it yet, since I'm trying to finish up the bottle of body wash that's already in my shower, but I can't wait to try it out.
I love simple earrings! These studs are absolutely perfect for me, and I love the rustic look that they have, since they aren't in a perfect shape. I will definitely be wearing these often and can't wait to pair them with some of my other studs (and these also look great inside of another item that I got in this box 😉 )
You are beautiful! This is a sticker that they suggest sticking on your mirror to remind yourself everyday that you are beautiful. I love self affirmations and I've already put this on my mirror – it's a small but powerful message and I hope if you get sticker you do the same too (don't worry, it's a transparent sticker :))
Another Revive item & another much needed lip balm (since I always lose them). Fall is definitely the season for pumpkins, I've been eating pumpkin seed tortilla chips lately, lighting pumpkin scented candles and decorating with pumpkins around the house…so this lip balm is absolutely perfect. I haven't opened it yet – since once I start using a lip balm, I lose it almost immediately – so I put this one in a safe place in case of an emergency when I need one, but I'm sure it will smell & work great!
And lastly, this BEAUTIFUL handmade jewelry roll.
There's two strips that you can put your studs in (it can hold 8 pairs) and theres a zipper pocket to store other accessories. I seriously love this and think it will come in handy for traveling, plus I never really had a spot for my studs anyways so I'm happy that they now have a safe home. (Peep the studs I got in this box on the left…they look great, right?!)
In case you needed a close up!
I hope you enjoyed the post! What's your favorite item in this seasonal curation? Let me know below 🙂
Also, don't forget to purchase this curation since it helps women who survived trafficking, those at risk and disadvantaged groups. Your purchase doesn't go unnoticed, and you can make a difference <3
Thanks for reading, as always <3
Xoxo, Rae