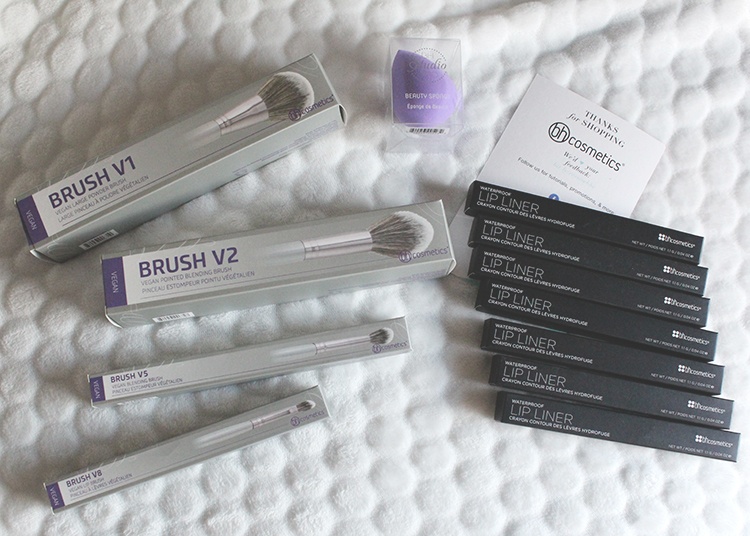 Hey lovelies! Per usual, I broke my spending ban – I know, I know, I'm awful. I just want all the things. Anyways! I picked up some new goodies from bhcosmetics. bhcosmetics is leaping bunny certified and they have incredibly affordable makeup! I purchased my Carli Bybel palette from them, a modern mattes palette and a brush set – all of which I have loved. I do suggest them for the price point and quality of their products. Since I've loved the other products I purchased from them, I wanted to try out their new vegan single brushes (brushes range from $5.50-$8 each which really isn't that bad for a nice quality brush (p.s. I got mine on sale, so keep an eye out to catch a good deal!!!)) and I also wanted to pick up some lipliners since I don't own any and I've been getting into wearing more lipstick and find it easier to apply with a liner, I might have gone a little overboard and purchased a lot, but I do have a lot of different lip colors. Then lastly, I picked up their pro beauty sponge! If you want to see more pictures of all of my goodies, then keep on scrollin' 🙂
So, I don't want to say that all of the makeup brushes from bhcosmetics are synthetic/vegan, but I think most of them are. If you're concerned about that, I definitely suggest picking up these vegan single brushes (really wish they had more to the range + a full set sold together, but I'll take what I can get!) I like that the brushes came in boxes, rather than just wrapped in plastic. I feel like it seems more sanitary (even though it's probably not) but I don't know, I'm a packaging junkie and I just love when things come in boxes. (I'd rather boxes than plastic, ya know?) I picked up four brushes – two for the face, one for the eyes and one for the lips.
Here are the two face brushes! The top one is V1 and the bottom brush is V2. I really like the way that these brushes are designed and the rose-gold/metal colored ferrule on the brush. These brushes are seriously so soft, like I wish you could feel them through my computer. I also like the different colors of the synthetic fibers in the brush – not sure why, I just like the way it looks. Overall, sturdy brushes for the price and when playing with the fibers none of them were loose and I didn't experience any shedding when using them!
I definitely suggest the V1 brush to set your face since it's so fluffy (I'm gonna die), but they also suggest using it for blush or bronzer to create a very natural, soft-focus look (I agree about using it for blush too – creates a nice natural look!). The V2 is suggested for blending (that's because it is a blending brush), so you can easily blur harsh lines with this brush, soften your contour or highlight to give a natural finish.
Basically, the face brushes are ah-mazing, and you need to get them. Seriously.
The next two brushes I got were the V5 and the V8 (haha, shoulda had a v8). The top brush is the V5, which is a blending brush for your eyeballzzzzz (which I love!) The quality is outstanding. Super soft bristles and this brush is honestly comparable to the Luxie 205 Tapered Blending brush, which retails for $12, but this one is half the price, so I'd grab this one instead! The V8 brush is the lip brush – I haven't used it yet, but I'm sure it will do the job that it's supposed to do.
So here is their pro beauty sponge! I picked this up since I thought that I had heard good things about it (but turns out, the person was talking about the Profusion cosmetics sponge.) This sponge is kind of hard and dense, unlike my Real Techniques sponge. It does grow quite a lot when you wet it though, but wetting it doesn't make it any softer or "bouncier".
Here is a comparison of the Real Techniques sponge and the bhcosmetics pro sponge while dry. The RT sponge is a little bit bigger, but also has more surface area since it's not the typical teardrop shape.
I also noticed that when wetting it, it started to foam (and no, I didn't add any cleaner to it before wetting it). I don't know if this should be alarming or if it was normal. You can see the bubbles/foam in between my fingers and throughout me wetting it and squeezing it, a ton came out.
Here is another comparison of the sponges, the bottom two are wet and the top RT sponge is dry (and a little deformed due to how I stored it). They do grow quite a bit. The RT sponge is definitely more squishy and softer than the bhcosmetics sponge.
You can see the difference in these pictures, I tried to squeeze them with the same amount of pressure. I did not try the bhcosmetics sponge yet, and I'm kind of afraid too because of how hard it is and I don't want it to soak up my foundation. (But, please do let me know if you have used it and if you like it!)
Now onto the real reason for my haul! The lipliners. Their vegan lip liners are $6 each which will cost you more than most drugstore brands but, I got mine on sale for $4.50 which is a comparable price to NYX liners. These lipliners are waterproof and they have a variety of colors! They also have great reviews about them too. They say that they are non-feathering, long wearing, waterproof and non-irritating, so I will have to try them out to see if the above is true.
I got 7 out of the 15 different colors, ranging from light shades to dark ones. I like the feel and look to the lip liners.
So from left to right, we have:
Peachy – peachy pink
Rosy – rose pink
Stripped – pinkish nude
Spiced – brick red
Earth – nude beige
Rouge – deep eggplant
Petal- warm pink
These are really creamy and smooth and are pretty much smudge proof (they obviously wouldn't be if you're making out with someone, but just accidently touching your lips you should be in the clear). They are matte and apply really nicely. It did take a while for me to wipe off with a makeup remover wipe, so I would say that they are waterproof – but again, I will have to try them out on my lips and see how they go! Overall, I do think that they're worth the money and that their color choices are really nice. They are very pigmented too, so that's another reason why I would grab these.
That's all that I got for this haul! I hope you enjoyed reading about what I got and what I thought about the products so far.
What's your favorite item from bhcosmetics? Let me know in the comments 🙂
Thanks for reading, as always <3
Xoxo, Rae
Disclaimer: All products were purchased with my own money. I am not being paid for this post, nor does it include affiliate links.